We love these brilliant noise isolation products by IsoAcoustics.
Once you start to delve into the world of high-fidelity audio, you soon discover that unwanted noise is the enemy of almost every component in your system.
The ongoing process to reduce (and eventually eliminate) all forms of noise is often governed by the law of diminishing returns: Initial reductions can be relatively simple to achieve, while further noise reduction can get tricky, technical and expensive.
Thankfully, there are some products which are simple to apply to any hi-fi system, and yet deliver far greater improvements than seem possible at first glance. The IsoAcoustics range of noise isolation products fall neatly into this category.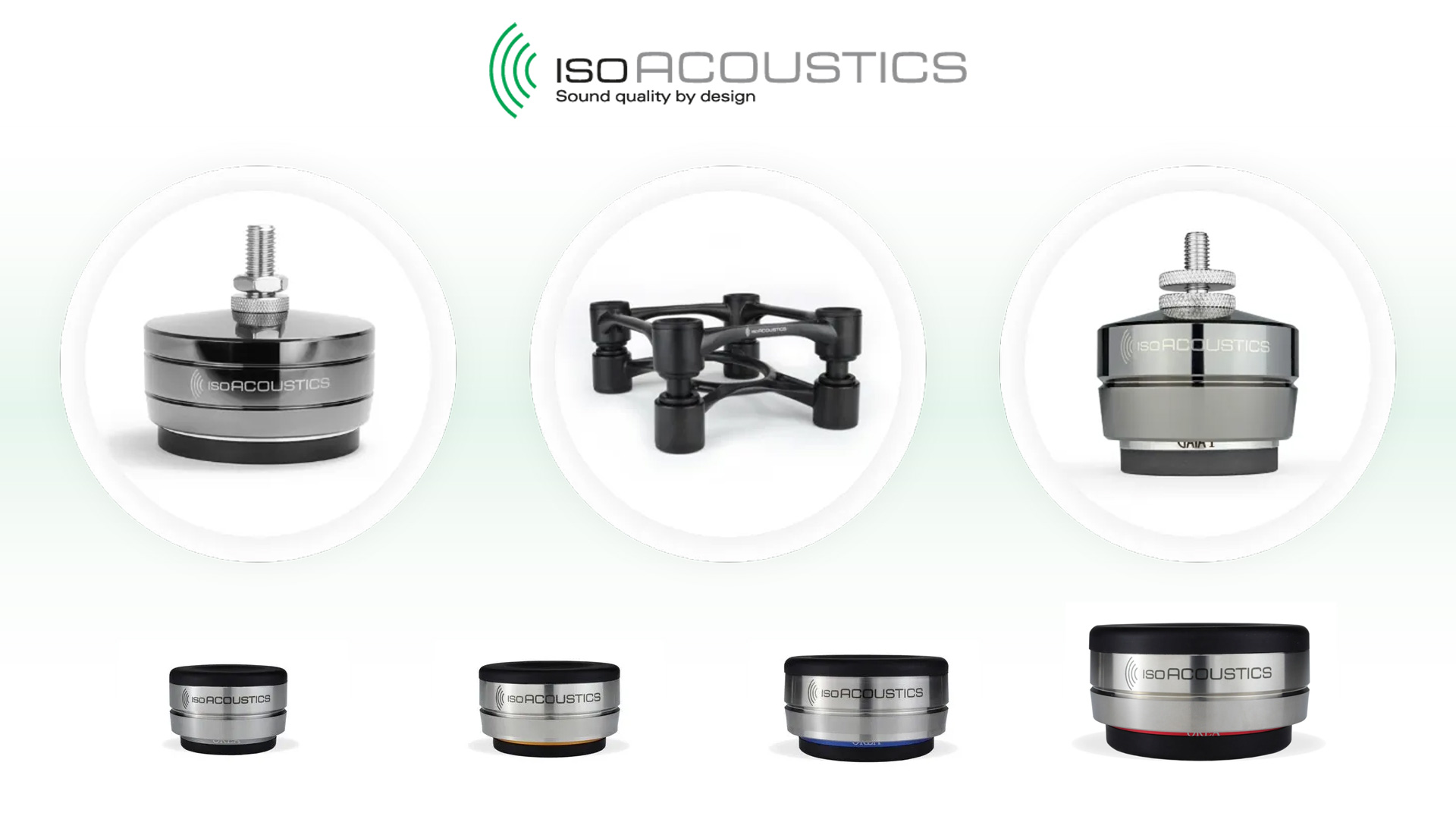 Isolation stands, feet, pucks & platforms.
IsoAcoustics provide isolation solutions for a variety of Home Audio applications. Their loudspeaker stands, isolation feet, isolation pucks and component platforms allow music enthusiasts to experience a higher level of clarity and openness, combining extraordinary acoustic performance with elegant visual designs.
Designed to meet the specific needs of audio professionals and musicians, for amateurs and professionals. These patented isolation products delivers consistency with greater sound clarity and openness.
The effectiveness of the isolation is a result of the shape, thickness, durometer and characteristics of each kind of proprietary isolation material, and the way the top and bottom isolators function together with the internal insert to manage vibrations.
Which solution is right for your system?
IsoAcoustics have developed an excellent Product Selector Wizard to help customers choose the exact product for their system. Simply select your audio component from their comprehensive list, and the tool will display the perfect IsoAcoustics product. Click the button below to try it for yourself:
Once you have found the right product, all items in the IsoAcoustics range are available from Unilet Sound & Vision. Do contact any of our sales staff to discuss your exact needs.
You can also purchase the IsoAcoustics range direct via Audio Sanctuary, our global online portal for spare parts, accessories and portable audio products. Order online and we'll ship direct to you.