Iterative improvements to an already-excellent range of premium loudspeakers
PMC have released the next iteration of their iconic twenty5 series loudspeakers. All speakers across the range have received a raft of relevant improvements arising from extensive recent research into improving high-frequency definition, crossover design, identifying and reducing unwanted vibration, which can colour the sound, making it less realistic and causing blurred imaging.
The new twenty5i series range consists of six units, comprising four two-way designs (the compact twenty5.21i, with its 130mm bass driver, the larger twenty5.22i with a 165mm driver and the corresponding floor-standers, the twenty5.23i and twenty5.24i) plus one three-way design (the twenty5.26i) and a dedicated centre channel (the twenty5.ci).
PMC maintain that the twenty5i series are not only technically superior, they are audibly superior compared to their predecessors, so why not come audition them at our showroom and hear the difference for yourself.
The range benefits from a new high-frequency drive unit, derived from the premium FACT speaker range. Re-engineering has enabled this unit to work down to a lower frequency and widen the optimum listening position, to enable the listeners to enjoy a consistent, ultra-detailed sound with razor-sharp imaging throughout the room.
Sophisticated crossovers are mounted on military-grade fibre-glass boards, with thick, pure copper tracks used to connect the hand-selected components. This optimises signal delivery and ensures that the ideal frequency range is precisely routed to the correct driver unit.
New for the twenty5i series is a lowering of the crossover point in the two-way models, allowing the LF driver to focus more efficiently on its core frequency range. For added midrange accuracy, the top of the range three-way twenty5.26i features a third driver dedicated to the mid frequencies, where the critical information is to be found.
The 50mm midrange is a soft-dome design, developed via the company's world-respected monitor speakers, bringing the clarity of the studio into the home of both audiophile and music lover alike.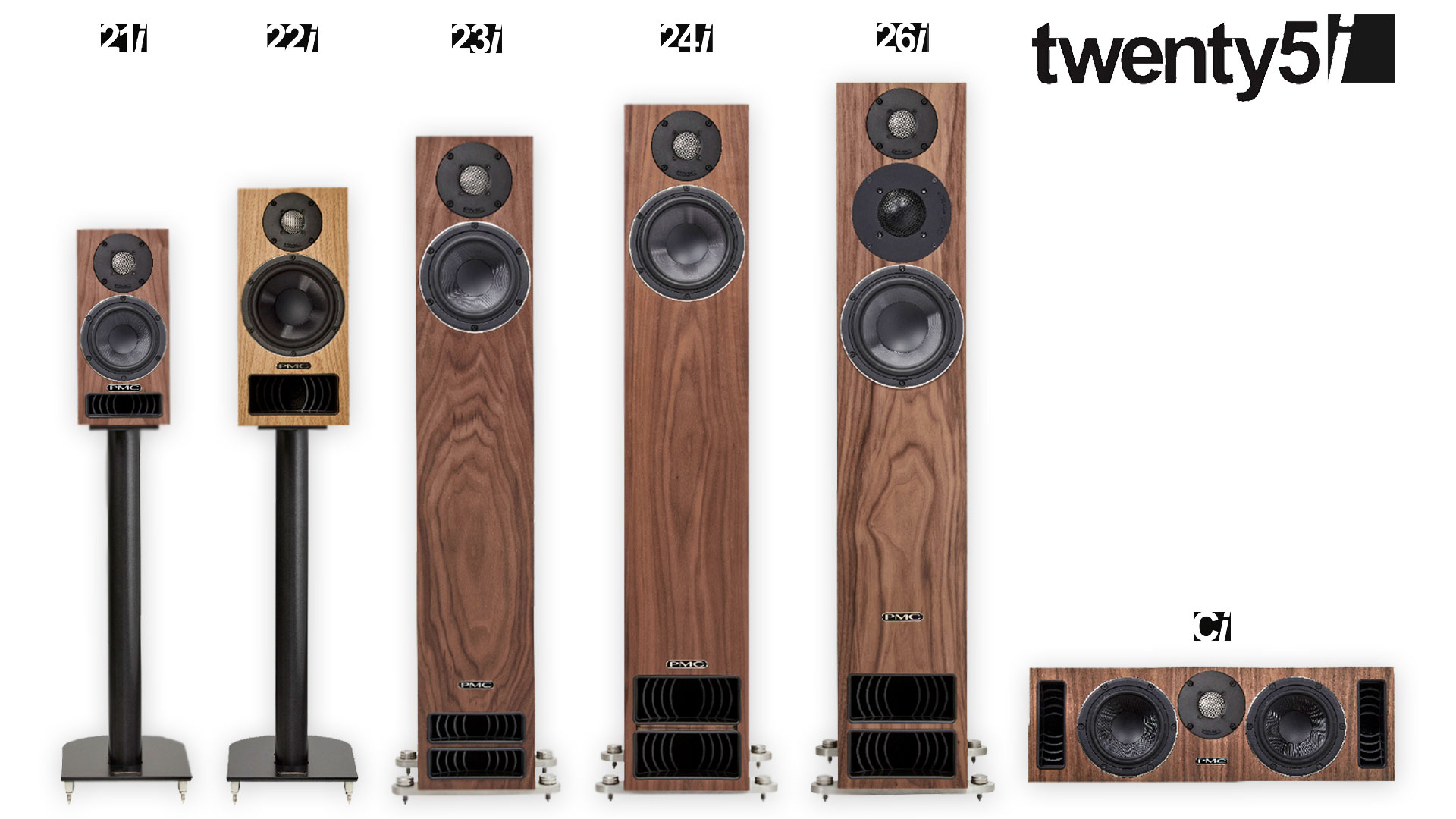 Studio or home, the essence remains the same
The twenty5i range maintains the core PMC belief that the same ultra-high resolution loudspeakers (if properly designed) can be used throughout the entire recording chain. That's why their designs are employed at every stage of music-making, from film soundtrack composers music rooms to recording studios through to the home, preserving the essence of the original performance exactly as the artist intended.
Because the characteristics and tonality of all their speakers, large or small, are essentially the same, it's a simple matter to mix and match different models to create your perfect immersive audio system.