PhoenixNET Audiophile-Grade Network Switch, by Innuos.
PheonixNET is the latest in the Phoenix line of precision streaming audio components from Innuos, following on from their earlier PhoenixUSB Reclocker.
PhoenixNET is a pure network switch – a device which acts to manage the flow of data across any network, a process which can have immediate performance advantages for the dedicated music lover.
Unlike other such devices originally designed for computer or data networks, perhaps, instead PhoenixNET has been designed from the ground up to cater for pure audio applications.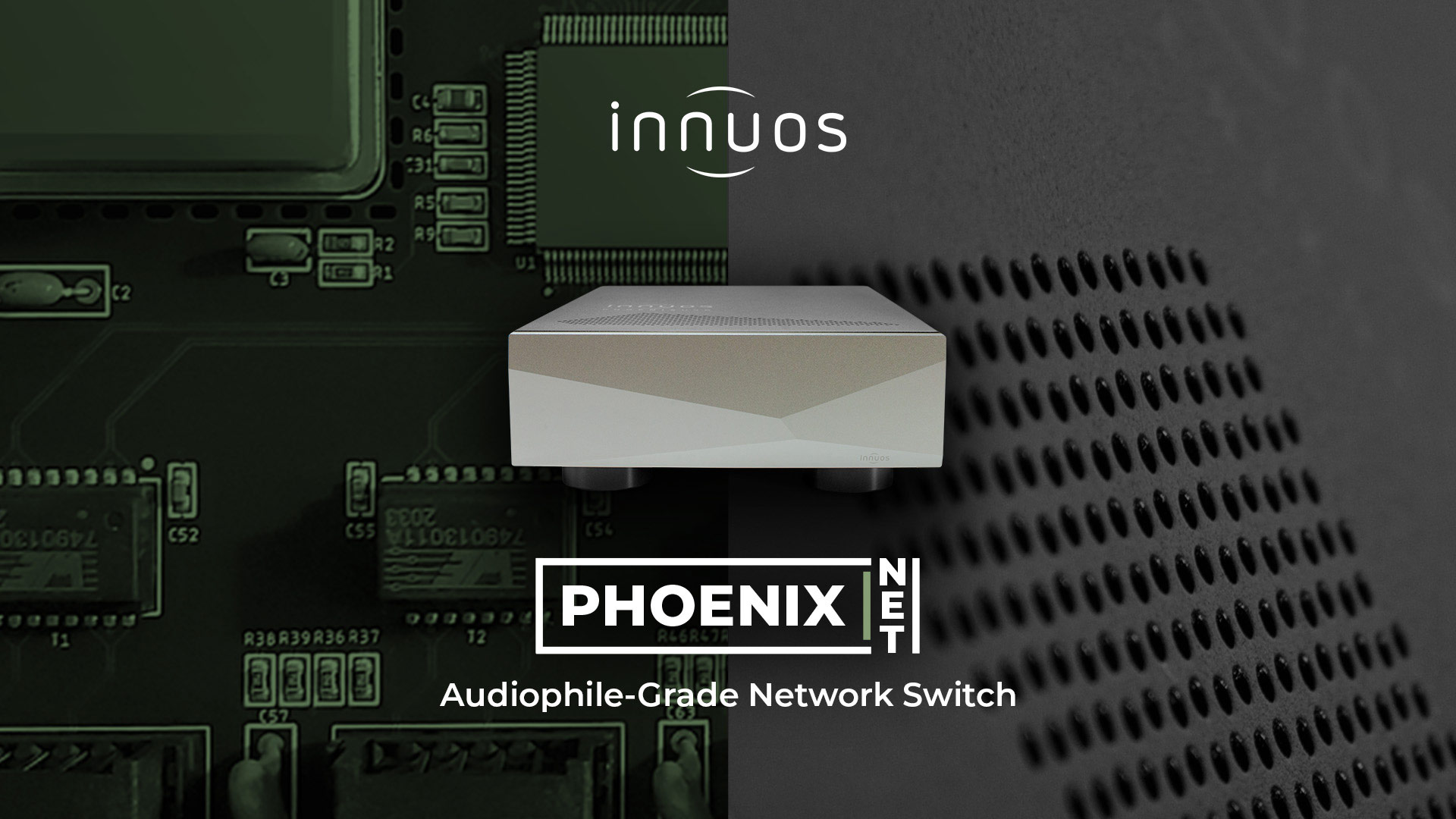 PhoenixNET reduces high-frequency noise through a simpler 100 Mbps network switch chip with no power switching regulators. Connected through high-end isolation transformers to individual Amphenol RJ45 shielded jacks, with no LEDs, and further complemented with EMI treatment to prevent noise entering the circuit.
In order to increase clocking precision & stability, a 3ppb 25MHz OCXO oscillator, as used in the Innuos Statement flagship model, is individually powered by its own linear power supply and connected directly to the network switch chip.
Two independent Statement-grade linear power supplies with CX modules and Mundorf caps individually power the OCXO clock and the mainboard. This keeps the power path extremely short, with less opportunity for EMI contamination, and delivering pristine power to the components.
Vibration is managed using custom-designed CNC machined aluminium feet, with an internal compound tuned to the resonant frequency of the chassis. The top cover is treated to convert vibration into small amounts of heat, and sturdy RJ45 ports use silicone rings to minimize vibration coming from the chassis.
PhoenixNET applies the Innuos philosophy of simplicity and signal purity to the humble network switch. The company have taken the concept to a new level with this completely new network switch design that focuses exclusively on audio use.
All the great streaming products in the Innuos range are available from available from Unilet Sound & Vision.
If you would like to discuss arranging a demonstration of the PhoenixNET Network Switch, or have questions about the component, please do not hesitate to give Unilet a call.