Description
Expert 1000 Pro Dual
1000 is the top-level Dual-Mono configuration in the Devialet Expert Pro range.
The Expert 1000 Pro combines two Expert 250 Pro units to create the ultimate Devialet system.
With 1000W of power (250W per-channel) in an exclusive casing, it is capable of driving the most demanding loudspeakers with a staggering authority and refinement. An audiophile icon is born.
In addition, a revised step in the manufacturing process in late 2020 saw a new dark-chrome finish applied to the casings of the Expert Pro 250 and the Expert Pro 1000 Dual models.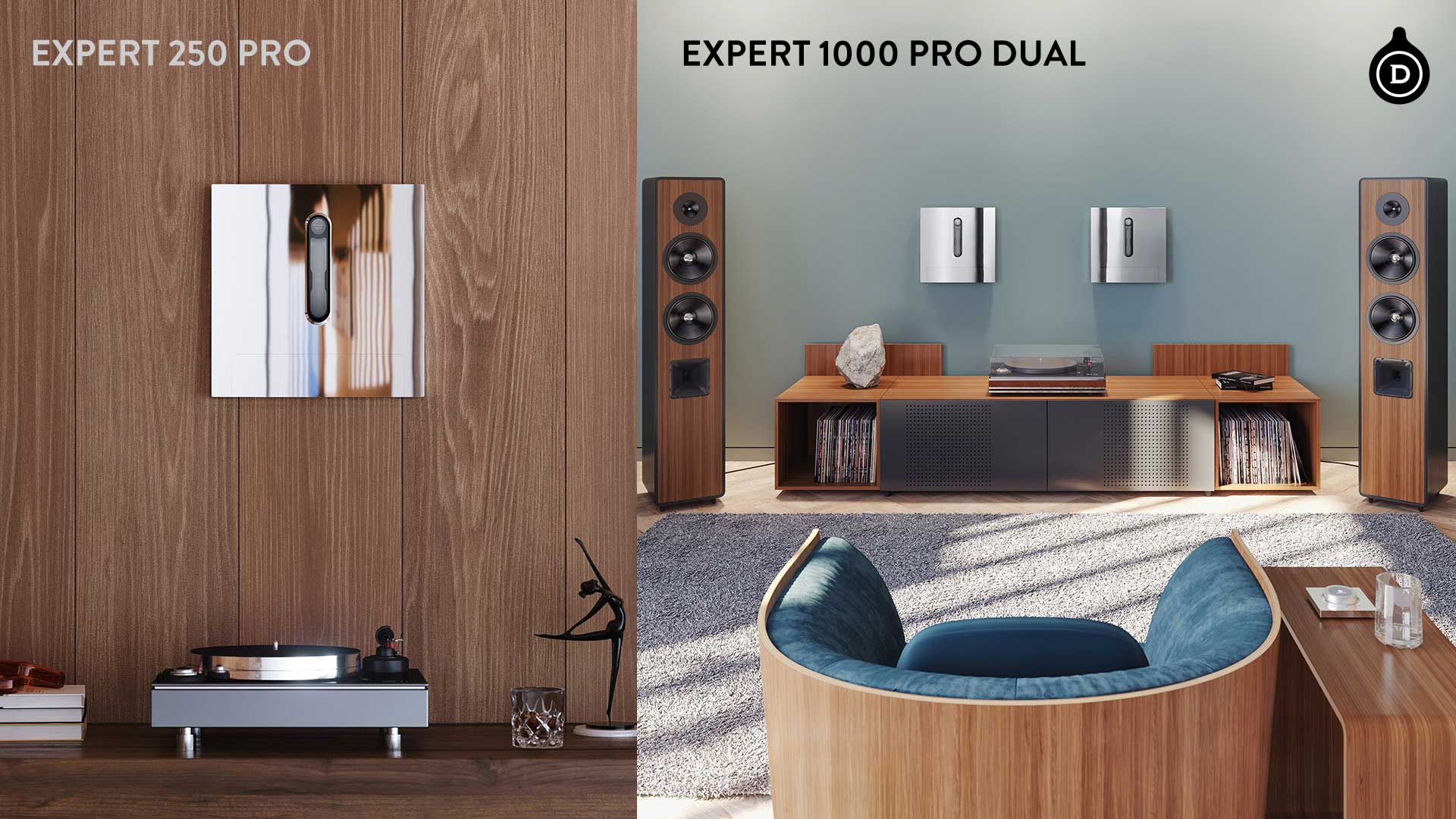 Specifications
Range: Dual-Mono
Technologies: ADHV2®, SAM®, AIR®, EVO®, DAC Magic Wire®, RAM®
Streaming Services: UPnP, Airplay®, Spotify Connect
Daisy Chaining: Up to x8 units
Phono Stage: Advanced MM/MC
Pre-Amplified Output: Yes (Mono / Stereo)
Casing: Hand-polished, carved from a single aluminium block, 100% pure copper bottom plate for optimal thermal dissipation
Side Panel: Dark Chrome
Weight: 9.7Kg Master, 9.5Kg Companion
Power: 2x 1000W RMS under 6ω
Distortion At Full Power: 0.00025% THD+N
Distortion at 10W: 0.0001% THD+N
Signal-To-Noise: 133dB
Output Impedance: 0.001ω
Damping Factor: 8000
Bandwidth: DC-30Hz @-0.1dB, DC-95Hz @ -3dB
Phase Rotation: 0.2° 20kHz, 0.9° 40kHz
Intelligence: 1x QUAD-CORE 1 GHz CPU, 2x SHARC 400MHz DSP, 1x 16MHz RISC processor, 4x 40MHz RISC processor, 1x 64MHz RISC processor
Thermal Distortion: Below measurement threshold
Wi-Fi: 2.4GHz 802.11 b/g/n Wi-Fi input for the Devialet AIR universal streamer.
Ethernet: RJ45 100/1000 Mbps
USB: USB Audio 2.0 Asynchronous, Very low latency, Bi-directionality (for digitisation of the analog sources)
Digital Coaxial Inputs: Up to 6x RCA 75ω
Digital Optical Inputs: 1x TOSLINK, up to 1x miniTOSLINK 3.5mm
Supported Formats: Up to 32bits / 192kHz PCM (USB), up to 24bits / 192kHz PCM (AIR®, UPnP, AES/EBU, Coaxial), up to 24bits / 96kHz PCM (Optical), up to 1bit / 3.072000MHz DSD64 (USB, Coaxial)
Analog Inputs: Up to 4x RCA stereo, sensitivity adjustable via the Configurator, advanced phono stage (MM / MC)
Speaker Output: 4mm banana plugs, fork connectors or stripped cables, adjustable from 30 WRMS to 440 WRMS via the configurator, compatible with all speakers from 1Ω to 16Ω, short-circuit protection, active filtering available, output impedance 0.001Ω
Home Automation: Up to 1x RS232 3.5mm 115200 bauds (documentation available via the Configurator)
Trigger: 3.5mm mini-jack trigger connector, trig in / trig out.
Expert Pro Series
The world's most advanced audiophile system, Devialet Expert Pro is meant for music lovers in search of a refined and emotional listening experience.
Designed to replace traditional Hi-Fi systems, Expert Pro delivers all the core elements of playback – preamp, amp, DAC, streamer, phono stage – in a single and ultra-compact unit.
By rethinking sound reproduction at every turn, Devialet engineers have been able to achieve the best performance ever measured, at all power levels. With a precise and natural attack, explosive dynamics, naked silence and beautifully true timbre, the experience is breathtaking.
Entirely configurable and upgradable, Expert Pro reveals your music's full potential, whatever the source or speakers.
Infinitely upgradeable
Expert Pro can be purchased in stereo, dual-mono or multi-amplification configurations (up to x8 units combined) allowing you to scale your system according to your individual needs.
With infinite configurability and performance that's constantly pushing beyond, Expert Pro's unique fractal architecture meets your every requirement.
Critically acclaimed
Breakthrough after breakthrough, Expert Pro technologies continue to redefine audio industry standards. Ten years of research and development, 100+ patents and 60 awards later, Expert Pro remains the most critically acclaimed audio system of all time.
Leading-edge technologies
ADH® hybrid amplification delivering the musicality of analog and the power of digital, SAM® real-time speaker active matching, on-the-fly phono stage configuration with RAM®, Magic Wire® DAC to eliminate thermal distortion, free and regular upgrades through the EVO® platform.
Exclusively developed by Devialet engineers, these technologies radically enhance every aspect of the Expert Pro architecture. Plus with Core Infinity (the new intelligent core of Expert Pro) streaming your music without compromising sound quality is both simple and accessible.
Roon ready
Roon and Devialet are thrilled to announce that all Expert Pro systems have been awarded Roon Ready certification, bringing the best of Roon's features to the Expert Pro range.
Exceptional remote control
An exceptional piece of technology and craftsmanship, the Expert Pro Remote lets you control your system with extreme precision from the palm of your hand.
Operated via ultra-low latency, omnidirectional radio link, volume control has never been as refined and reactive.
More information