A new operating system delivering hi-res audio and enhancements
Sonos have announced that June 2020 will see the release of Sonos S2 – a new app and operating system (OS) that will power the next generation of their products and experiences.
In addition to new features, usability updates, and more personalization, Sonos S2 will enable higher resolution audio technologies for music and home cinema.
Most Sonos products will be compatible with S2. If all products in your system are S2-compatible, you will be able to download the new app and get started when released in June.
Some of the oldest "legacy" products will not however support S2 due to their memory and processing power limitations – but if you own any such products, rest assured you can continue to use your Sonos system exactly as you do today, with no issues.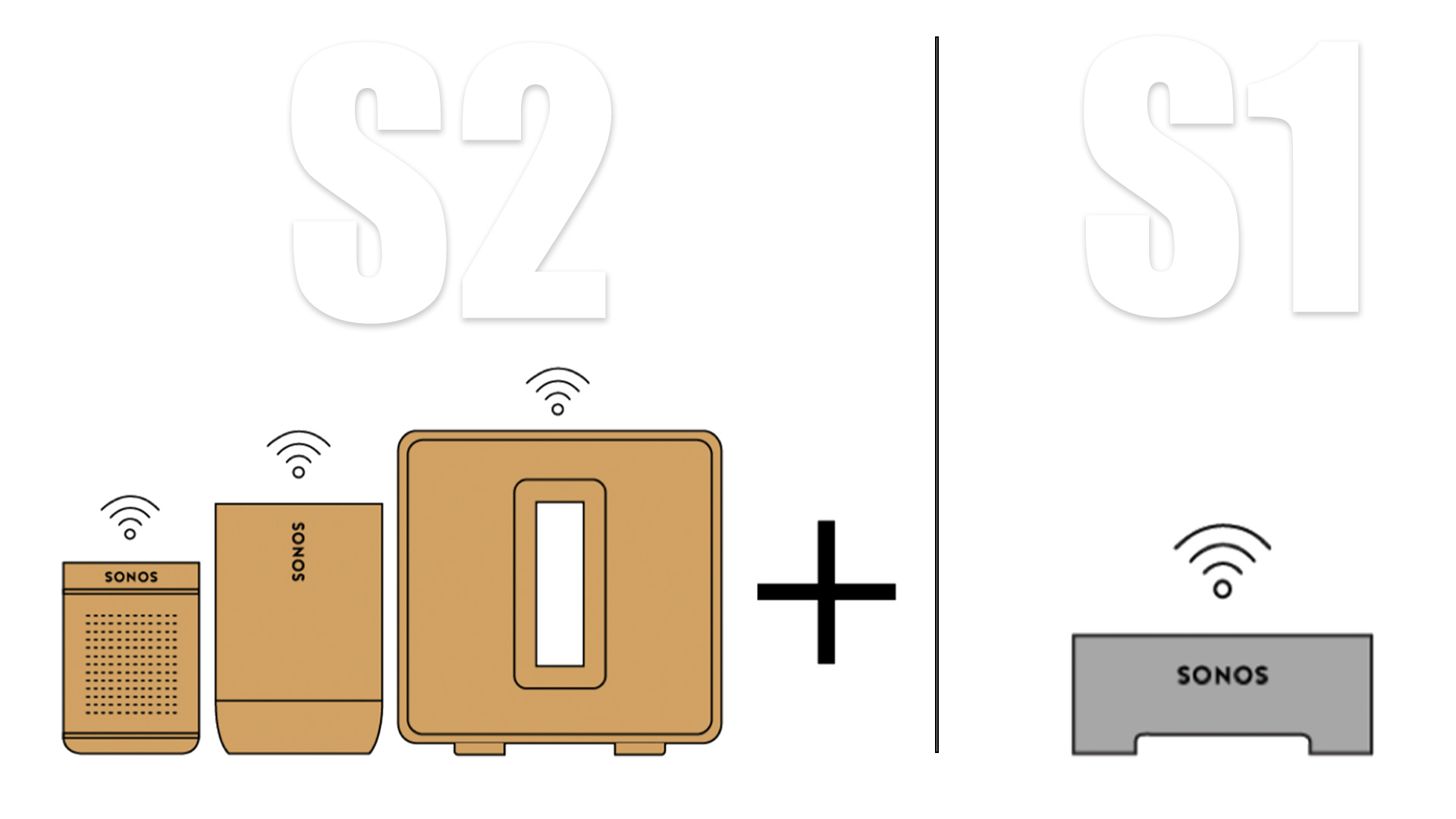 Incompatible products list
The following legacy products will be incompatible with the Sonos S2 controller app, however will still continue to work just fine with the current controller, which is soon-to-be-renamed as the S1 controller:
Zone Players
CR200
Bridge
Connect (Gen 1)
Connect:Amp (Gen 1)
Play:5 (Gen 1)
S2-compatible products list
The following current products are fully compatible with the new Sonos S2 controller app:
Play:1
Play:3
Play:5 (Gen 2)
Playbase
Playbar
Connect (Gen 2)
Connect:Amp (Gen 2)
One (Gen 1)
One (Gen 2)
One SL
Beam
Amp
Port
Boost
Symfonisk
Move
Sub (Gen 1)
Sub (Gen 2)
+ Future Products
Do you need to update to S2?
No. If you have products that are incompatible with S2 and would like to keep your system as is, you can.
The controller app currently in use will soon be renamed as the Sonos S1 Controller, and it will continue working with your existing products, music services, and voice services.
When prompted to update in the app, simply confirm that you would like to continue with your current experience. If all of your products are compatible with S2, however, Sonos recommend you update in order to enjoy their new software features.
Can I have a mix of S1 and S2 products?
You can continue using the S1 Controller app to control your system. You also have the option to create two separate systems: one with products that are S2-compatible, and one with products that are not. You can also upgrade incompatible products at Unilet Sound & Vision, as we are an official Sonos Trade-Up partner and installer.
If you wish to upgrade or trade-up
All products in the Sonos range are available from available from Unilet Sound & Vision.
If you would like to check if you have a Sonos legacy product, or would like to discuss replacing or trading-up any component in your system, please don't hesitate to give Unilet a call.