Save £150 on the MRx Wireless Speaker, when purchased with the R5 Music System, from Ruark Audio.
You can now save £150 on the Ruark Audio MRx Wireless Speaker when purchased together with the Ruark Audio R5 High-Fidelity Music System.
MRx is a superb system on its own but comes alive when paired with R5. When both products are linked, any source available on your R5 will play seamlessly on MRx, including CD and Vinyl. It's never been easier to fill your home with the Ruark Audio award-winning sound.
Simply add an MRx and an R5 to your shopping basket, use coupon code R5MRX, and you'll save £150 and get FREE SHIPPING too.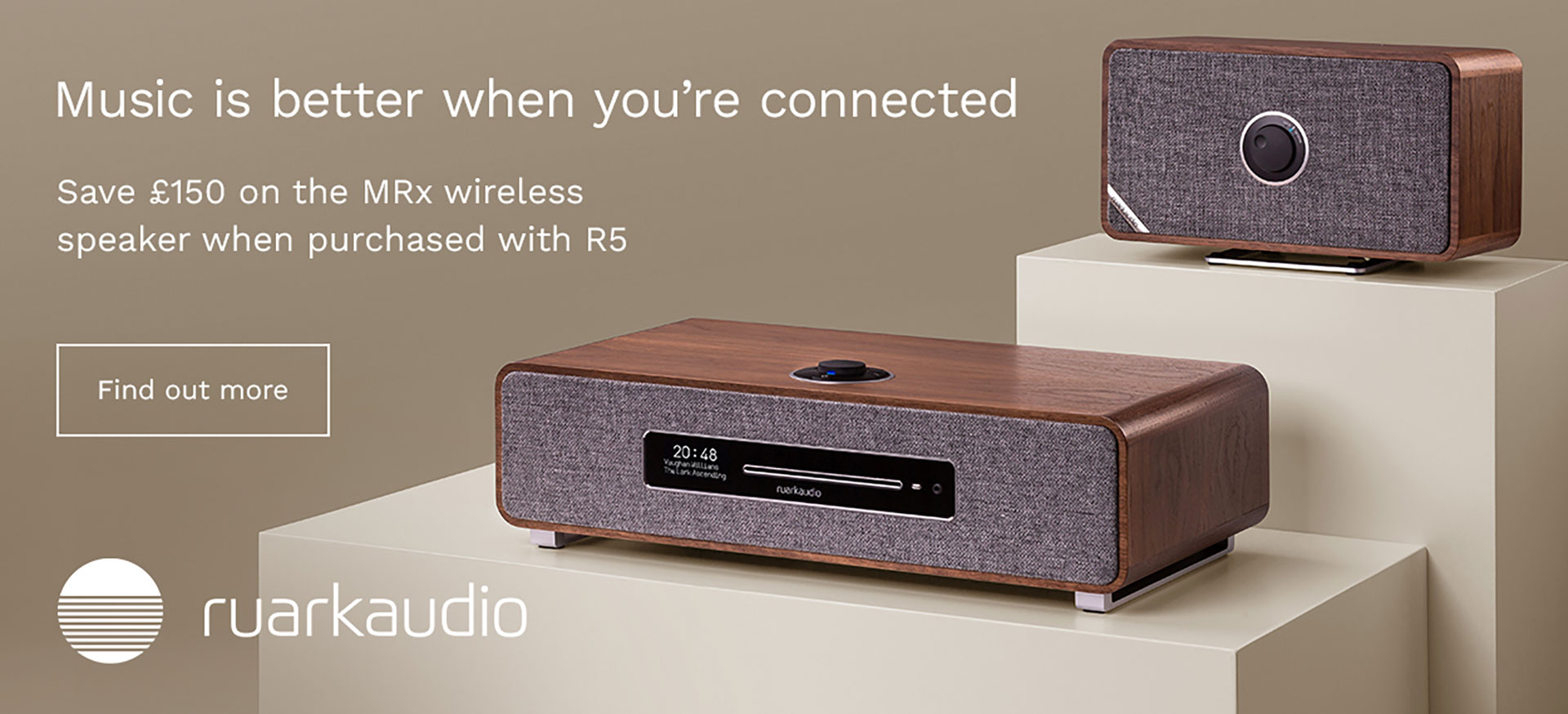 R5 High-Fidelity Music System
The Ruark Audio R5 is a scaled-down version of the flagship R7 model in all but sound, creating a system which is simply pioneering. R5 is also multi-room ready and if desired can be wirelessly linked with the MRx, R2 Mk3 and R7 Mk3 to provide beautiful sound all around your home. Perfect on its own or with a TV as a complete home entertainment solution, R5 embodies the rich Ruark Audio heritage with awareness of changing technology – a system that is timeless and built to last.
MRx Connected Wireless Speaker
MRx is something rather special! A connected wireless speaker with great sound and a wide range of abilities. On its own MRx makes a perfect system for your lounge, kitchen or study, but linked with other MRx or our R2 Mk3, R5 and R7 Mk3 models it is super-easy to build a wireless multi-room system for quality synchronised sound wherever required.
Save £150 with this great bundle deal!
This exciting offer is available at Unilet Sound & Vision, both instore and online, from 1st August 2022, while stocks last.
To buy online, simply add both the MRx and the R5 to your shopping basket and use coupon code R5MRX. You will save £150 and receive FREE UK SHIPPING too.
Unilet Sound & Vision are long-term official dealers for Ruark Audio, and can offer advice, sales, service and support on their entire catalogue of premium audio products. Do get in touch if you would like a demonstration or assistance.