Two new-look models make a premium combination
Never a brand to rest on their laurels, Marantz have recently released two new premium models which showcase a bold new forward-focused look.
Their new Model 30 Integrated Amplifier pairs perfectly with the new SACD 30n Networked SACD / CD Player, forming a sleek combination with combines Marantz heritage in analogue amplification and compact disc players, retains excellent connectivity to existing sources, and adds new digital streaming sources to future-proof any purchase.

Model 30 is a premium stereo integrated amplifier with 100W output at 8Ω, 200W at 4Ω, featuring independent pre-amp and power-amp sections, a toroidal transformer, and an MM/MC phono stage with selectable MC input resistance too.
Painstakingly tuned by the Marantz Sound Master, Model 30 offers low noise and an extended frequency range thanks to HDAM technology, and is designed to replicate the sensitivity and feel of a vintage analogue amplifier at all levels of operation.

SACD 30n is another Sound Master-tuned unit. An elegantly-designed SACD / CD Player with networked audio streaming capabilities, plus a USB-B DAC mode which supports PCM up to 384kHz / DSD11.2.
With HEOS® built-in, you can enjoy content direct from providers such as Spotify, Amazon HD, TIDAL, Deezer, and more. This makes SACD 30n a perfect choice for the digital audiophile, who may wish to stream high resolution digital content, but who also may have an extensive CD library too.
Both units are available in the classic Marantz finishes – Black and Silver Gold, and despite their new look case design, will certainly complement and enhance existing Marantz components.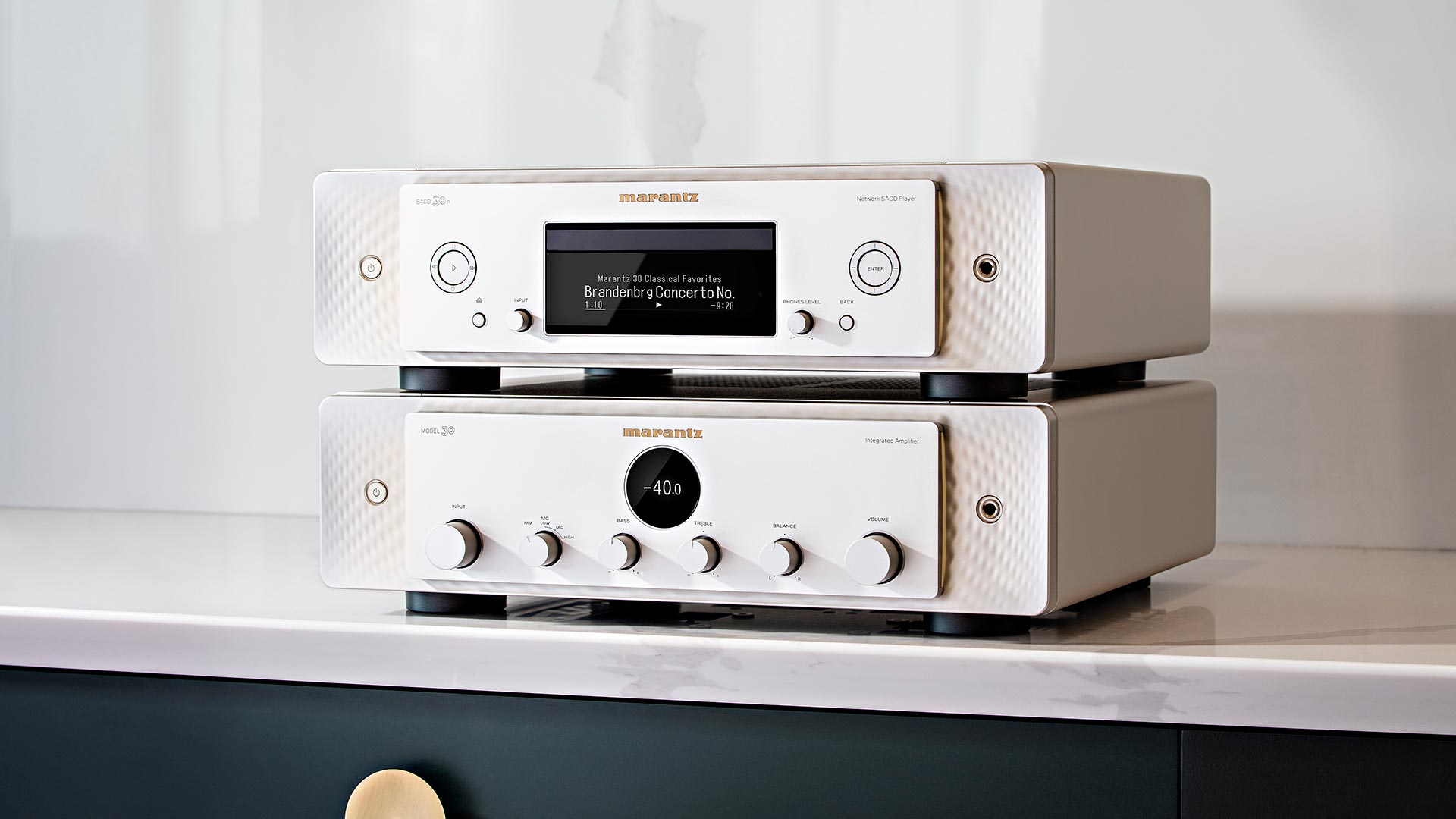 But wait, there is more…!
Two new Special Edition (SE) models
For those who wish to push the boat out a little further, Marantz have also released two new Special Edition (SE) models in the same component categories:
PM-12SE is a pure analogue integrated amplifier, originally created solely for the Japanese market. However the sound engineers in the European region combined it with many of the processes developed for the famous PM-KI Ruby model, and the result is this beautiful unit – a fully-discrete two-stage design, high grade audio parts, custom capacitors, ultra-low-leak diodes, double-layer chassis and a solid aluminium front.
SA-12SE is a reference-quality Super Audio CD / CD Player, plus DAC, which draws upon the development processes created for the flagship SA-10 model.
Using the Marantz in-house SADCM-3 technology, this player can handle SACDs, CDs, CD-ROM and DVD-ROM. Plus the unit also has an asynchronous USB input which can accept digital formats all the way up to DSD11.2 / PCM/DXD 384kHz / 32-bit.
A dedicated headphone amplifier is a welcome addition too, with an all-discrete construction featuring HDAM-SA2.
Two new 5-star reviews from What Hi-Fi?
You would be forgiven for thinking that four new models are sufficient effort for one month, however Marantz have also outdone themselves within the entry-level component range too.
Still staying within the integrated amplifier and CD player categories, the new 6007 Series have scored five-star reviews in What Hi-Fi? magazine, plus a whole range of accolades in the sub-£500 price bracket.
PM6007 is a solid integrated amplifier delivering 45 watts (8Ω) from 20Hz – 20kHz, with connectivity for a wide range of analogue & digital sources, plus MM phono stage and a dedicated subwoofer output too.
CD6007 is a high-specification CD player which can cope with CD, CD-R and CD-RW discs, plus a USB-A port supporting hi-res audio, via codecs such as FLAC HD, DSD and more.
Congratulations to Marantz for their attention to detail and support for music lovers across the entire price range of components. These new models – all six of them – are sure to increase respect and support for the brand for many years to come.
All products across the Marantz ranges are available from Unilet Sound & Vision.
If you would like to audition or compare models, or see how they might best be integrated into your existing system, please don't hesitate to give Unilet a call.