Description
twenty5.26i
The largest in the twenty5i range, the flagship twenty5.26i model is a three-way floor-standing passive loudspeaker featuring dedicated drive units for high, mid and low frequencies.
PMC is respected worldwide for its soft-dome mid-range drivers (amongst many other things). The third driver in twenty5.26i is dedicated to those all-important mid frequencies, where the critical detail is to be found in vocal recordings.
This three-way design ensures that each key frequency range has its own dedicated driver, so that this speaker can fill even the largest spaces with absolute transparency, clarity and encompassing sound.
With premium build quality, this is a sublime speaker that can expand with you as you upgrade your system, and bring out the very best in whatever source equipment you choose to connect it to.
Specifications
Available Finishes: Walnut, Diamond Black, Oak, White Silk
Crossover Frequency: 400Hz, 4kHz
Dimensions: H 1040mm 40.9" x W 192mm 7.6" x D 439mm 17.3" incl. binding posts (+15mm grille)
Drive Units:

LF PMC 6.5"/170mm long-throw g-weave™ cone with cast alloy chassis
MF PMC 50mm chambered soft dome mid-range
HF PMC/SEAS®, 19mm twenty5i series, SONOMEX™ fabric soft dome, Ferrofluid cooled, with 34mm surround and dispersion grille

Effective ATL" Length: 3.3m 11.0ft
Frequency Response: 27Hz – 25kHz
Impedance: 8 Ohm
Input Connectors: One pair 4mm binding posts
Sensitivity: 86.0dB 1W 1m
Weight: 25kg (55.1 lbs ea.)
ATL Technology
With their unique ATL (Advanced Transmission Line) enclosures, PMC have taken loudspeaker design to the highest level. The technology uses sophisticated cabinet construction, proprietary drive units, and patented absorption materials and techniques, delivering enormous benefits compared to the relatively simple sealed-and-ported designs commonly available from other brands.
Full Twenty5i Range Available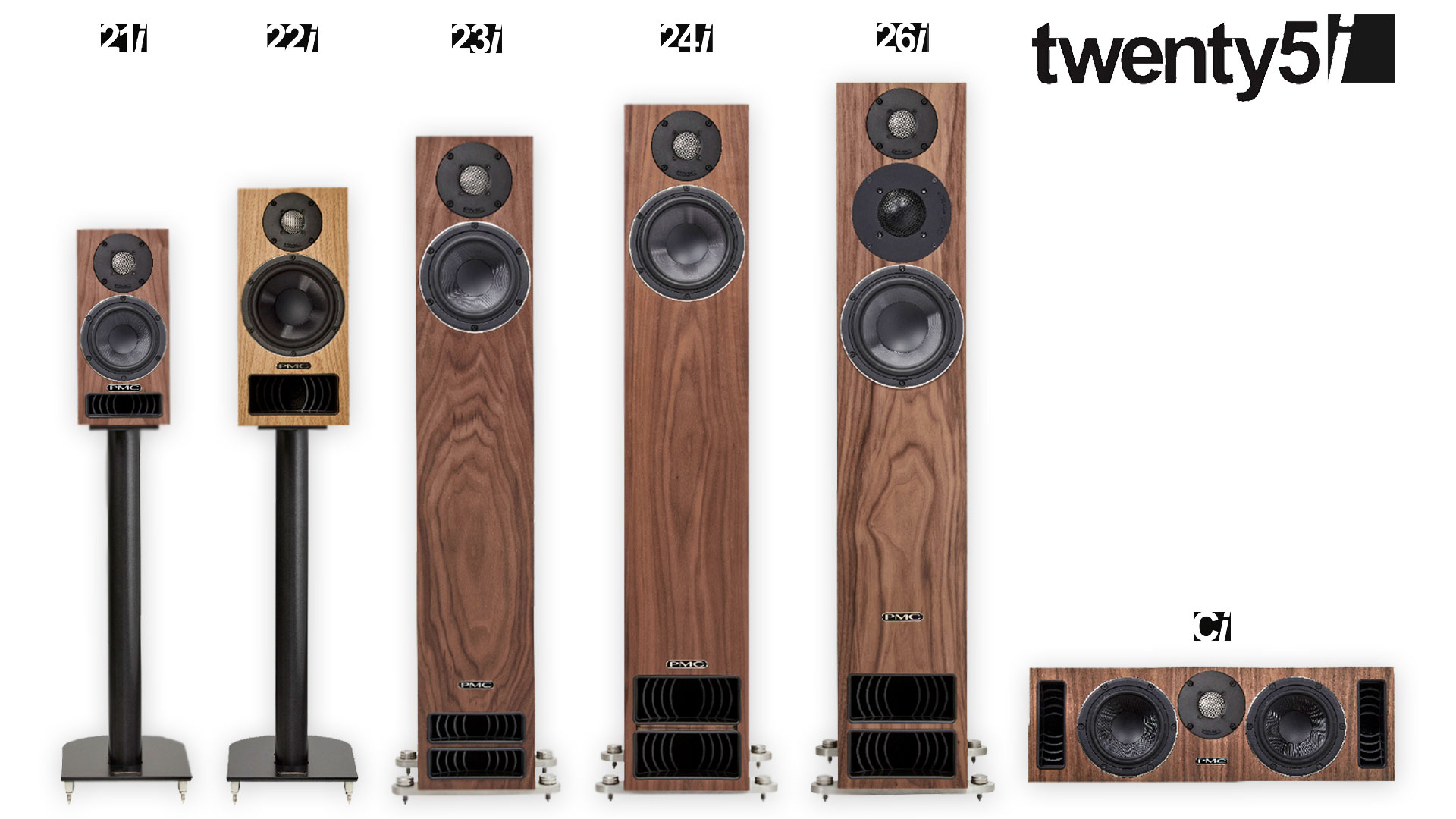 Unilet Sound & Vision are one of the longest-serving retail partners for PMC, and stock the complete range of twenty5i series loudspeakers, plus the entire range of domestic audio products. Visit us in-store and audition them at your leisure.
More Information