Description
SE846 Gen 2
Shure SE846 Gen 2 Sound Isolating Earphones are the second generation of the classic SE846, by Shure.
Secure, over the ear cable with wireform fit ensures earphones stay in place and out of the way during hours of wear. Sound Isolating technology with selection of sleeves blocks up to 37 dB of outside noise and ensures custom, comfortable fit. Includes a premium carrying case, 1/4-inch adapter, fit kit with wide selection of sleeves, and nozzle removal tool with changeable inserts for frequency response adjustments.
Four custom-engineered drivers tailored to blend precisely with each other deliver extended high-end clarity, while the groundbreaking low-pass filter design gives you the performance of a true subwoofer — all without sacrificing a solitary detail.
Customize your audio even further with a selection of four unique sound signatures, including a new extended option. This is unparalleled aural acuity based on decades of dedication. It is why more musicians trust Shure and true audiophiles fall in love.
Detachable 3.5 mm communication cable is compatible with Apple and Android, and enables integration of other accessory options – including wireless connectivity. Sophisticated listening for the refined ear.
Features
Four high-definition drivers provide high-end clarity and unparalleled low-end performance for a state-of-the-art listening experience.
Three-way system for dedicated low, mid and high frequency distribution. Hi-Res certified by the Japan Audio Society.
Groundbreaking low-pass filter provides the deep low-end performance of a true subwoofer – without sacrificing clarity or detail.
Customizable frequency response puts you in control of your audio experience. Select extended, balanced, warm or bright audio through removable nozzles for four unique sound signatures. The extended nozzle insert (default configuration) increases imaging clarity and adds an airy quality to the audio. The balanced nozzle enhances clarity and detail, the warm offers additional bass presence, and the bright highlights high frequencies.
Sound Isolating technology blocks up to 37 dB of noise to eliminate distractions. Enjoy the most immersive listening experience with a design that keeps earphones in and noise out during exercise or travel.
Ergonomic low-profile design with optimized nozzle angle ensures long-wearing comfort and fit. Over-the-ear design keeps cables out of the way.
Detachable 3.5 mm communication cable allows the SE846 Earphones to attach to different cable accessories with an MMCX connection, including the True Wireless Secure Fit Adapter for Bluetooth connection. Compatible with Apple & Android devices and adapters with a 3.5 mm connection.
Enjoy clear calls and controls with integrated remote + mic. Seamless control for phone calls and easily accessible operation of voice commands, volume and music playback.
Two-year manufacturer warranty in tandem with durable build quality engineered for a lifetime of use. See what we're made of and ensure your investment lasts.
Specifications
Sensitivity (at 1 kHz): 114 dB SPL/mW
Impedance (at 1 kHz): 9 Ohm
Frequency range: 15 – 20,000 Hz
Noise cancelling up to 37 dB
Gold-plated 3.5 mm stereo jack
Included
1 x Universal 3.5 mm Earphone Communication Cable
1 x Premium carrying case
1 x 1/4″ adapter
1 x Soft Flex Sleeves (S, M, L)
1 x Foam Sleeves (S, M, L)
1 x Comply Sleeves (XS, S, M, L)
1 x Triple Flange Sleeves
1 x Yellow Foam Sleeves
1 x Sound Signature Filter Pack (Extended, Balanced, Warm, Bright)
Full Shure Range Available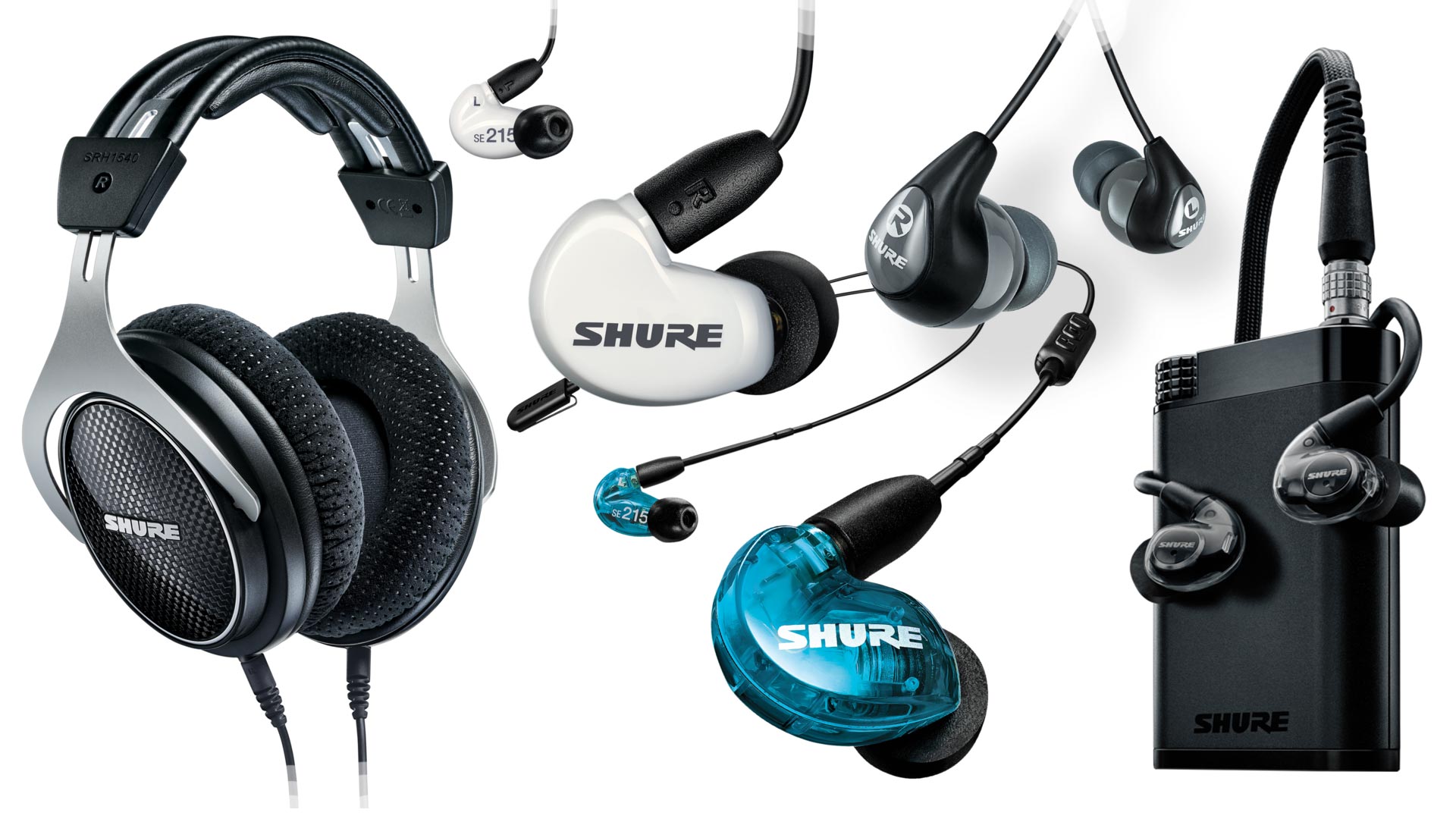 Unilet Sound & Vision are an official retail partner of Shure, offering the complete range of headphones, earphones, electrostatic systems, cables and spares. Do come visit and audition the range instore.
Shure products can also be ordered online via Audio Sanctuary, our dedicated mail order service for headphones, portable audio and replacement parts.
More Information