Description
twenty5.21i
Although the most compact model in the new range, there's nothing small about the twenty5.21i sound, which delivers the impact you would expect from a much larger cabinet – all thanks to PMC's Advanced Transmission Line technology.
The speaker is ideal for use in small-to-medium listening environments where space is at a premium, but where you still want detailed bass, ultra-realistic mids and delicate highs with maximum musicality.
Equally happy mounted on a stand or a bookshelf, the twenty5.21i offers maximum flexibility for placement, and also makes an excellent choice for effects speakers in an immersive sound system.
Specifications
Available Finishes: Walnut, Diamond Black, Oak, White Silk
Crossover Frequency: 1.7kHz
Dimensions: H 340mm 13.4" x W 162mm 6.4" x D 284mm 11.2" incl. binding posts (+9mm grille)
Drive Units:

LF PMC 5.5"/140mm long-throw g-weave™ cone with cast alloy chassis
HF PMC/SEAS®, 19mm twenty5i series, SONOMEX™ fabric soft dome, Ferrofluid cooled, with 34mm surround and dispersion grille

Effective ATL" Length: 1.72m 5.6ft
Frequency Response: 46Hz – 25kHz
Impedance: 8 Ohm
Input Connectors: One pair 4mm binding posts
Sensitivity: 86.5dB 1W 1m
Weight: 6kg (13.2 lbs ea.)
ATL Technology
With their unique ATL (Advanced Transmission Line) enclosures, PMC have taken loudspeaker design to the highest level. The technology uses sophisticated cabinet construction, proprietary drive units, and patented absorption materials and techniques, delivering enormous benefits compared to the relatively simple sealed-and-ported designs commonly available from other brands.
Full Twenty5i Range Available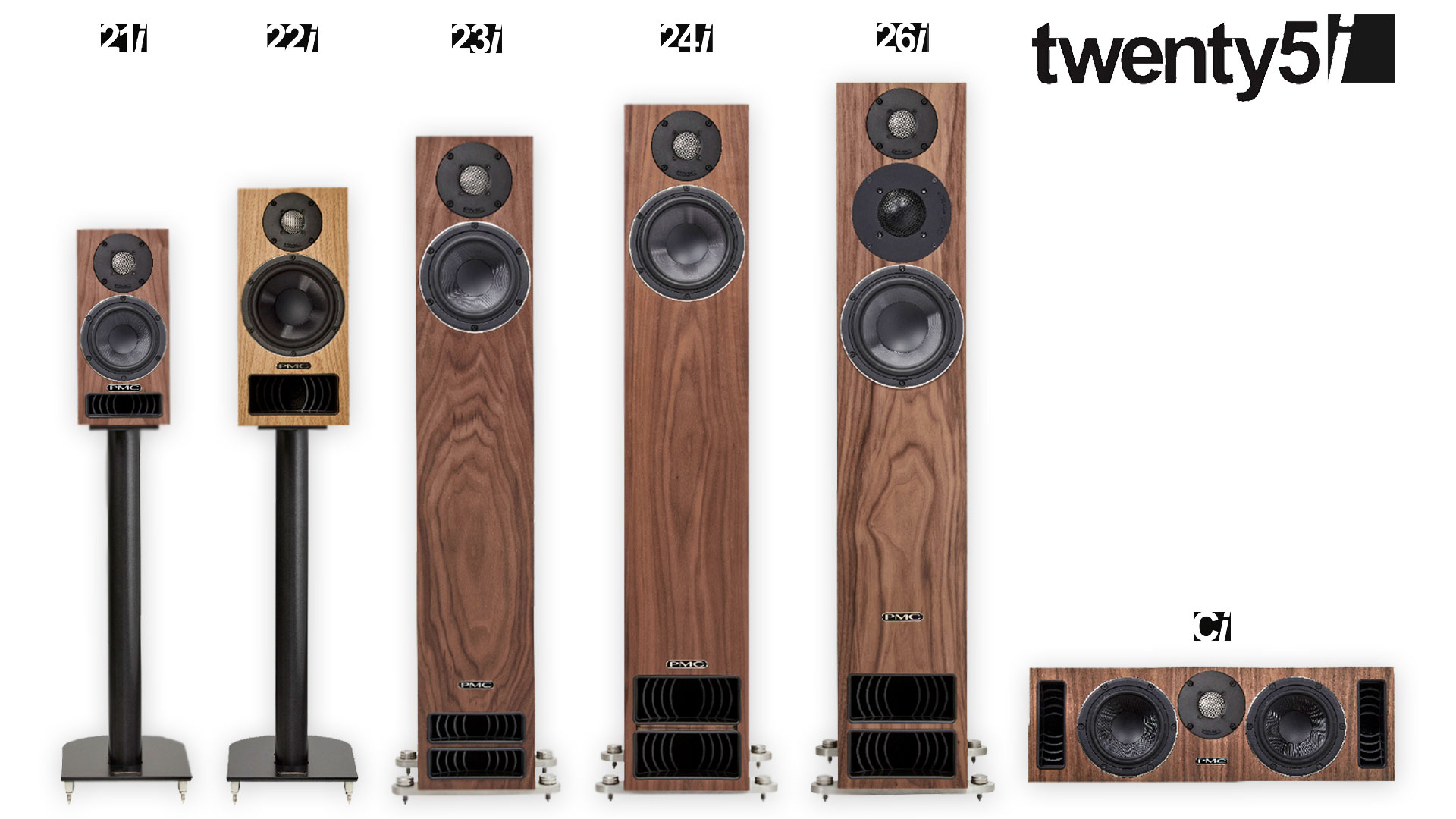 Unilet Sound & Vision are one of the longest-serving retail partners for PMC, and stock the complete range of twenty5i series loudspeakers, plus the entire range of domestic audio products. Visit us in-store and audition them at your leisure.
More Information