Description
Micro iDSD BL (Black Label)
Micro iDSD Black Label is the top-rated desktop DAC and headphone amplifier from iFi Audio, the world's most powerful battery-powered DAC and headphone amplifier, capable of unrivalled native playback in DSD, PCM and DXD file formats.
Whether listening at home with your speakers, or at work with your headphones, simply connect Micro iDSD Black Label to your computer and instantly hear the quality of your music improve.
iFi Audio have added their characteristic sonic enhancements to add that extra depth to your listening. XBass+® cleans and restores the bass to give you a richer, deeper sound, whilst 3D+® opens up your music to create a live-concert atmosphere.
The headphone amplifier is also a serious force to be reckoned with. With 4,000mW of power, Micro iDSD Black Label can drive anything from the most sensitive IEMs, right up to the most power hungry over-ear, closed-back headphones. It comes with three output settings adjustable to work with any ear buds or headphones you happen to own.
Featuring a battery life of up to 12 hours, Micro iDSD Black Label also charge your phone or mobile device – from 0% to 100% through the USB charging port on the side — not once, but twice, on a single charge.
Finally, the sleek black and orange design looks funky, fun and a flattering addition to any music lover's system. This is a really great DAC / Headphone Amp at an exceptional price point.
Features
Performance-tuned 3D® Plus and XBass® Plus
ZeroJitter/Femto clock system upgraded for lower phase-noise/jitter
Digital engine upgraded with iFi custom ultra-low noise Op-Amp OV2028
Analogue section upgraded with iFi custom ultra-low noise Op-Amp OV2627
Ultra-low impedance OS-CON polymer capacitors & Panasonic audio-grade ECPU film capacitors
Specifications
Formats supported:

DSD512/256/128/64, Octa/Quad/Double/Single-Speed DSD
DXD(768/705.6/384/352.8kHz), Double/Single-Speed DXD
PCM(768/705.6/384/352.8/192/176.4/96/88.2/48/44.1kHz)

Filters:

PCM – Bit-Perfect Processing/Minimum Phase/Standard
DSD – Extreme/Extended/Standard Bandwidth
DXD – Bit-Perfect Processing

Digital Inputs: High-Speed Asynchronous USB 2.0 (32bit/768kHz), SPDIF Coaxial/Optical
Digital Output: SPDIF Coaxial
Audio Input: 3.5mm
Audio Output: 6.3mm, RCA Line out (2V fixed/2V-5V variable)
Power Output: Turbo (8.0V max/4,000 mW @ 16 Ohm), Normal (4.0V/1,000 mW @ 16 Ohm), Eco (2.0V/250mW@16 Ohm)
Battery: Lithium-polymer 4800mAh
Power System: USB BCP V1.2 compliant up to 1500mA charging current
Power (max): < 2W idle, 4W max
Warranty period: 12 months
Full iFi Audio Range Available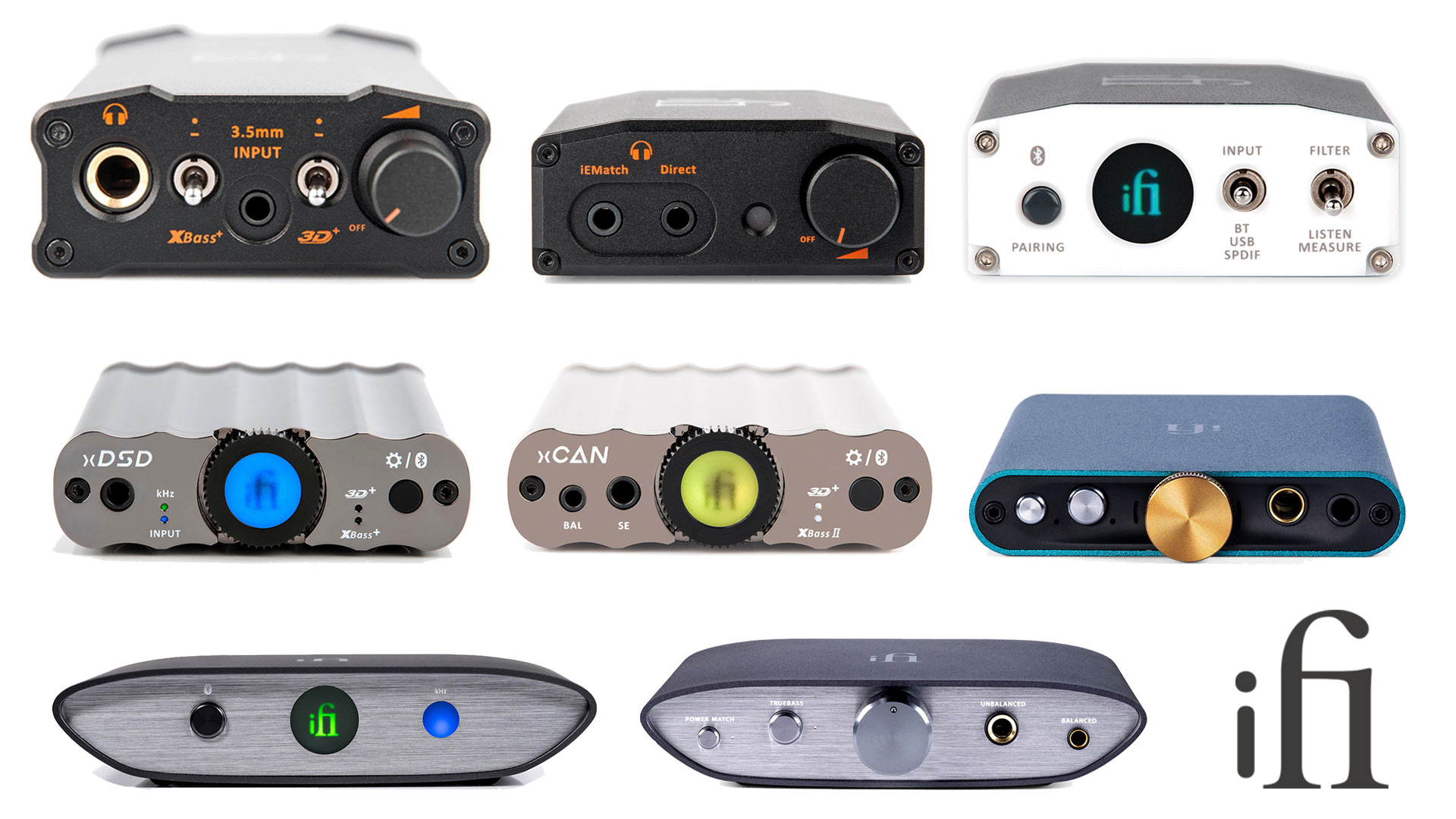 Unilet Sound & Vision are an official retail partner for iFi Audio, stocking a wide range of their products available for demonstration in-store, and with online ordering available via Audio Sanctuary, our mail order service.
Come visit us soon and check out their great range of top performing, yet extremely affordable hi-fi products.
More Information