Description
CD11 Tribute
Rotel have been designing and manufacturing CD players since their RCD-855 was launched in 1989. The company has never looked back since.
So, when given the opportunity of engaging with audio legend Ken Ishiwata to create an even higher performance model of the successful CD11, the Rotel design teams eagerly accepted. With over 40 years of audio engineering experience, Ken's collaboration with Rotel created something truly special – the CD11 Tribute edition.
Their CD11 Tribute model includes critical changes to the power supply, DAC circuits and precise selection of components in the audio signal path delivering an increased sense of space, improved accuracy, detail, and genuineness of the audio.
Supporting RCA analog and coaxial digital outputs, front panel display and a remote control, the CD11 Tribute continues the proud tradition of Rotel and is reflective of the legacy of Ishiwata-San and his tireless efforts in delivering audio products which perform well beyond their price point.
Reviews
The Rotel CD11 Tribute and partner A11 Tribute Amplifier both received Outstanding Product Awards from Hi-Fi News in January 2021.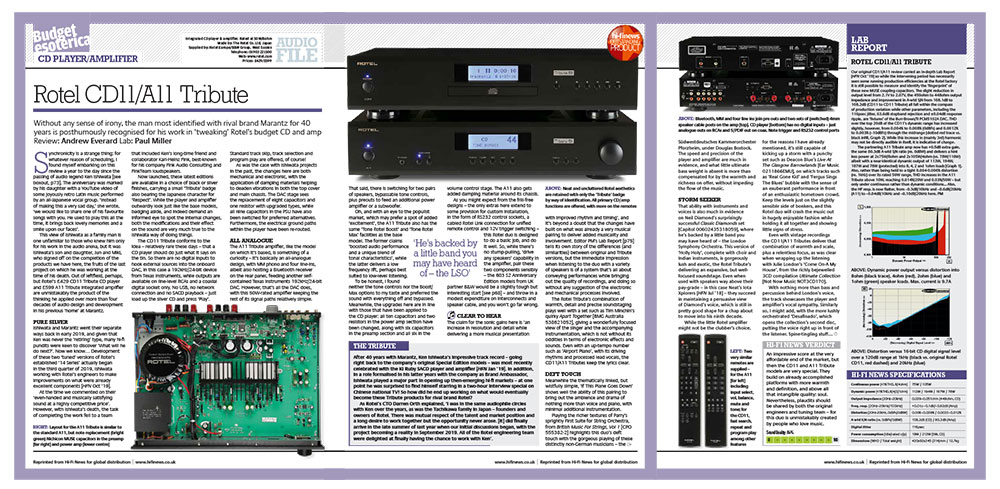 Features
Texas Instruments Digital-to-Analog Converter
Tray loading CD mechanism
Includes remote control
12 volt trigger input
Specifications
Output Level: Digital (Coax): 0.5V
Output Impedance: Line Level – 470Ω, Digital (Coax): 75Ω
Total Harmonic Distortion: 0.009% @ 1kHz
Frequency Response: 20Hz – 20kHz, ±0.5dB
S/N Ratio (A-Weighted): >125dB
Dynamic Range: >99dB
DAC: Texas Instruments
Channel Balance: ±0.5dB
Channel Separation: <115dB @ 10kHz
Dimensions (W × H × D): 430 × 98 × 314mm
Power: 230V, 50Hz
Consumption: 15W
Standby: <0.5W
Net Weight: 5.8kg (12,7lbs.)
Full Rotel Range Available
Unilet Sound & Vison are long-time retail partners for Rotel, able to provide sales advice, support and service options for their products. Please do contact us if you would like to know more.
More Information