Description
A11 Tribute
The collaboration between Ken and the Rotel in-house engineering design teams delivered on the promise of an even higher level of performance than the extremely successful and popular award-winning A11, upon which this tribute model is based.
Upgraded components and meticulous tuning of all critical circuits deliver a richer, more expressive, and true-to-life experience from all of the support source inputs including apt-X and AAC wireless Bluetooth, array of 4 RCA analog inputs and a Moving Magnet (MM) Phono Stage for vinyl fans.
The front panel graphic display and IR remote ensure effortless control of the audio, driven by an in-house Rotel-manufactured oversized toroidal transformer.
The resulting acoustic performance speaks for itself under all loading conditions, with even the most difficult speaker loads.
Reviews
The Rotel A11 Tribute and partner CD11 Tribute CD Player both received Outstanding Product Awards from Hi-Fi News in January 2021.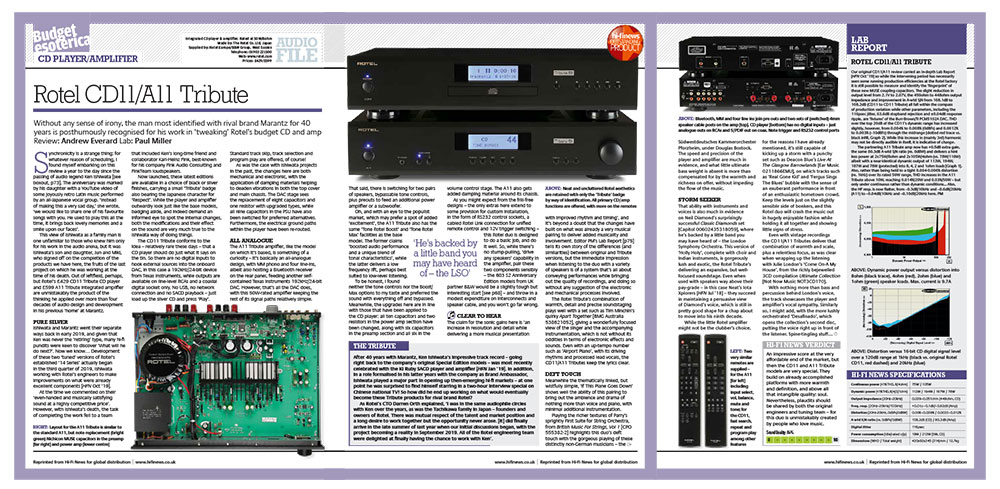 Features
2 x 50 Watts of classic Rotel Class AB power
Includes remote control
Moving Magnet (MM) Phono input for turntable connection
Bluetooth with apt-X and AAC
Texas Instruments Digital to Analog Converter (DAC)
Specifications
Continuous Power Output: 50W/Ch (All channels driven, 8Ω)
THD: (20Hz–20kHz) <0.03%
Frequency Response: Line Level Inputs – 10Hz – 100kHz, ±0.5dB, Phono Input – 20Hz – 20kHz ±0.5dB
Signal-To-Noise (A-Weighted): Line Level Inputs – 100dB, Phono Input – 85dB
Intermodulation Distortion (60Hz:7kHz, 4:1): <0.03%
Damping Factor: 140
Input Sensitivity: Line Level Inputs – 180mV, Phono Input (MM) – 2.3mV
Input Impedance: Line Level Inputs – 47kΩ, Phono Input (MM) – 47kΩ
Input Overload: Line Level Inputs – 4V, Phono Input – 50mV
Pre-out Level: 1V
Output Impedance: 470Ω
Tone Controls: ±10dB at 100Hz / 10kHz
Dimensions (W × H × D): 430 × 93 × 345mm
Power: 230V, 50Hz
Consumption: 160W
Standby: <0.5W
Net Weight: 6.85kg (15lbs.)
Full Rotel Range Available
Unilet Sound & Vison are long-time retail partners for Rotel, able to provide sales advice, support and service options for their products. Please do contact us if you would like to know more.
More Information